The quest from more power is never ending, but on the other hand, so is the quest for more traction. The more power we add, the harder it is to hook. That's where JMS fills the void. The TractionMAX vehicle traction control module by JMS Chip & Performance offers an all-in-one throttle and pedal tuning solution.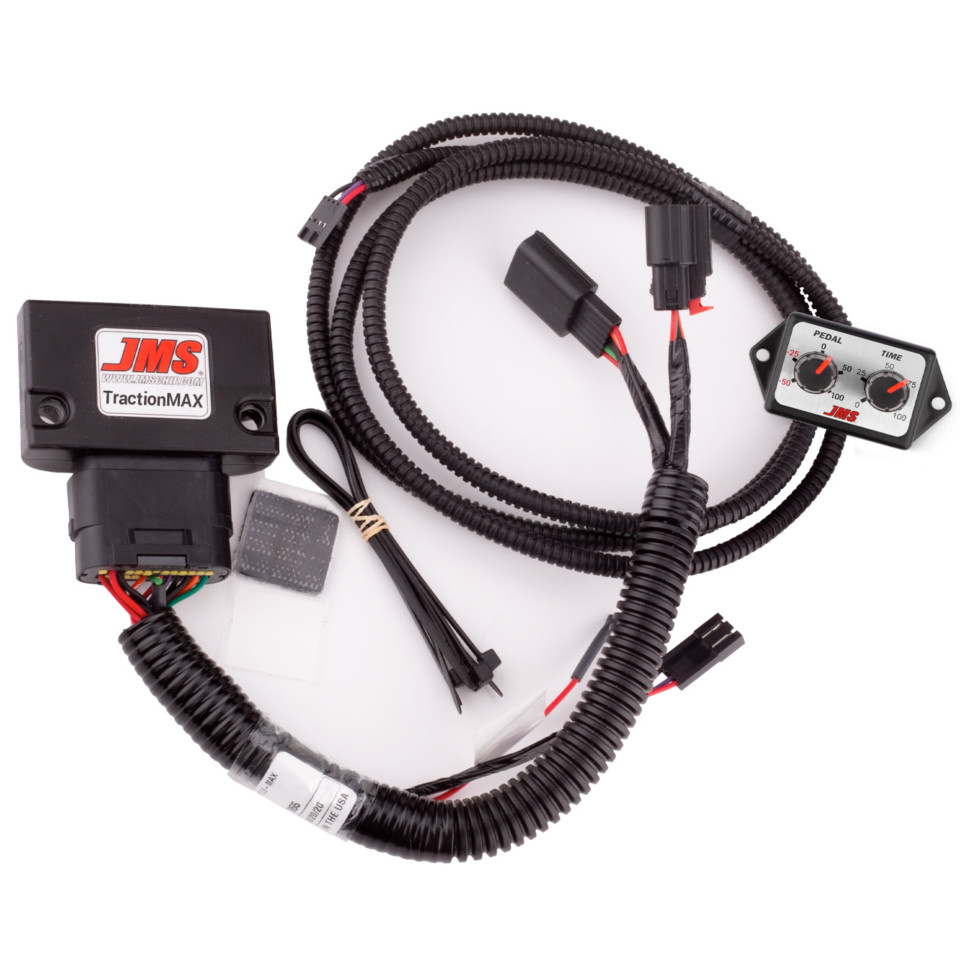 So how does the JMS TractionMAX work? It's actually very simple and plug and play. Almost all
of JMS products are easy to install due to plug and play connectors and harnesses. The unit
plugs in between your vehicle's pedal position sensor and the wiring harness. Once it's plugged
in, you can make adjustments to the pedal and time knobs to apply power by percentage and
delay until reading wide open throttle. It's a great idea and works extremely well.
There are a lot of options, which accommodate different scenarios. Manual vs Automatic, as well
as a one-time delay for drag racing vs traction on the street. For example, there's a toggle switch
for a quick On and Off option, great for manual cars or even a valet mode. There's also a button
to control power for effortlessly engaging and disabling pre-tuned traction settings on the fly.
You can see more detail on the install in the TractionMAX installation guide.
The device will also save the setting, which is handy if you want to save a specific setting and
leave it in place. Perfect if someone is using your vehicle, it keeps the power limited to a setting
and can't be adjusted as to not lose control or accidentally crank it up too much.
The main features of this device are:
-All-in-one kit offers easy installation, straight out the box
-Enhances low and mid-range horsepower, torque, and acceleration
-Reduces risk of stalling on manual cars
-Can be used to optimize both acceleration and traction
-Boosts throttle response
-Mitigates turbo lag
-Dual-adjustment dials allow quick and easy fine-tuning
-Compliant with both factory and aftermarket maps and tuning
-Supports most LS and LT equipped vehicles
-Stealthy size permits mounting in almost any location
-Save function merely requires unplugging or toggling power off
-100% waterproof construction
-100% designed and assembled in the USA
-Retails for $449.00 per unit
JMS has vehicle fitment Audi, BMW, Ford, GM, Toyota and more.
You can find Traction Max for your vehicle here Traction Max